I sure do have a treat for you today!
I fell upon the Awkward Girls blog a couple months ago and let me tell you;
they are the cutest best friend I ever did see!
I fell in love with their style instantly.
I asked both of them to pick their favorite thrifted pieces.
I about died when I saw what they picked!
Enjoy :]
----------------------------------------------------------------------------------
Hey all you lovely Thrifted Things readers!
When Katherine asked us to guest post over here we kind of went a little cray cray with excitement because we were already avid fans of her blog. Seriously guys, how does she do it? She's so cute!

So before we go any further, you might want to know a little bit about us
We're best friends in college who love fashion and everything that goes with it. But since we're poor college students, we're living on a tight budget. Which forces us to get really creative with our shopping habits, which is where
thrifting
comes in.
We definitely haven't reached Katherine's expertise, but we are thrifting fiends.
There is just something so satisfying about looking through a thrift store for hours and then finding that one unique item that was only meant for you. Know what we mean? Not to mention, it's so much cheaper.
So Katherine asked us to share some of our favorite thrifted beauties.
Dress: thrifted via decades, cardigan: jcrew, belt: thrifted, necklace: uo, boots: miz mooz


This lace dress is one my all-time favorite finds anywhere. It was found at one of our favorite vintage stores in Salt Lake City. It's a vintage Jessica McClintock for Gunne Sax dress from the 70's.
When we first saw it on the hanger, I kind of just thought it looked more or less like a giant sack of lace. But then I tried it on and it was like the heavens opened. Okay not that dramatic, but it fit perfectly. So now it's mine. Maybe when I first brought it home, I seriously considered keeping for my wedding. Is that so wrong?
I love the vintage, rustic feel of the lace, especially when it's contrasted with leather accents. I feel so Jenny from Forrest Gump when I wear it.
This lovely skirt was found in the bowels of the DI, just waiting to be discovered. I like to think it used to belong to a very stylish old lady who trotted around in her stylish colorful skirts.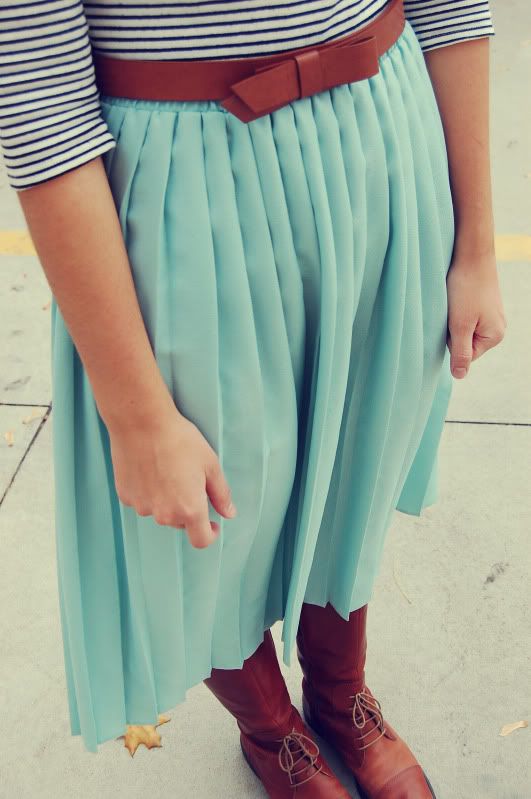 Truth be told, this skirt was tent-sized when I bought it. However, I just happen to have a sewing-savvy sister who took it in for me and viola! Sassy pleated skirt. I love it because it is basic enough to wear with any style top and always adds a pop of color!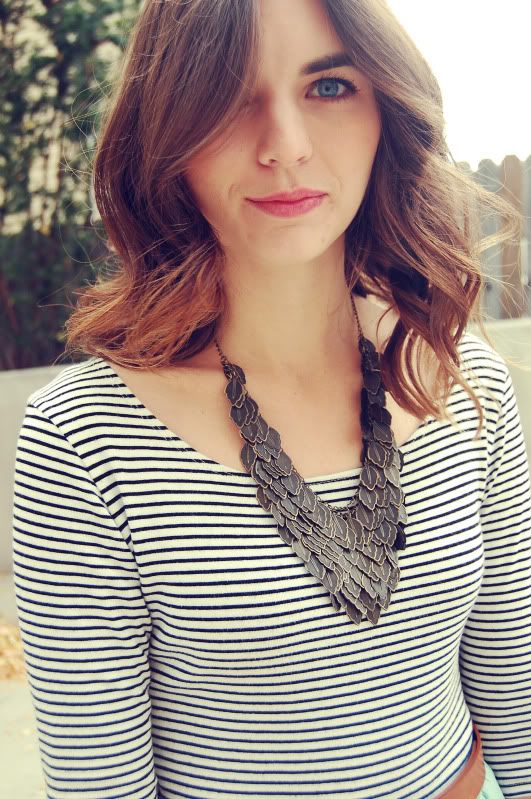 So there it is! Like what you see? Stop by
the blog
for more thrifted finds!
Thanks again Katherine! You da best, gurrrrrl.
xoxo
----------------------------------------------------------------------------------
Do you all have major girl crushes now?
I sure do...